Car rental Prague Airport | Taggart
A reliable car rental at Václav Havel Airport in Prague offering short-term, weekend, and monthly vehicle rentals.
Rent a car in Prague at Václav Havel Airport
Since 2010, Taggart Car Rental Prague has been the proud partner to tens of thousands of satisfied customers. One of our specialties is car rentals at the airport in Prague. We are among the largest car rental services in Prague and throughout the Czech Republic, with a focus on catering to the needs of travelers during their arrivals or departures.
Our fleet comprises more than 500 cars available for daily, short-term, weekend, monthly, flexible, or long-term rentals. Importantly, all our vehicles undergo thorough checks and are maintained in top-notch condition, with an average age of up to 11 months, ensuring a safe and comfortable ride during your stay in the Czech Republic and beyond.
We are deeply committed to delivering high-quality and customer-centric services. This effort is reflected in the stellar reviews we have received on the Firmy.cz/Mapy.cz portal in 2020, 2021, and 2022. This renowned portal is managed by the Seznam company, and our central branch in Prague boasts exceptional ratings.
Our team prides itself on offering a professional and personalized approach to each client. We aim to be your reliable travel partner within, to, and around the Czech Republic and Europe. At the Taggart Car Rental at Prague airport, you can expect dependability, trustworthiness, and fairness at every stage of your travel experience. Your comfort and safety are our top priorities.
We are here for you with an unlimited vehicle delivery option, available 24/7, not just during business hours.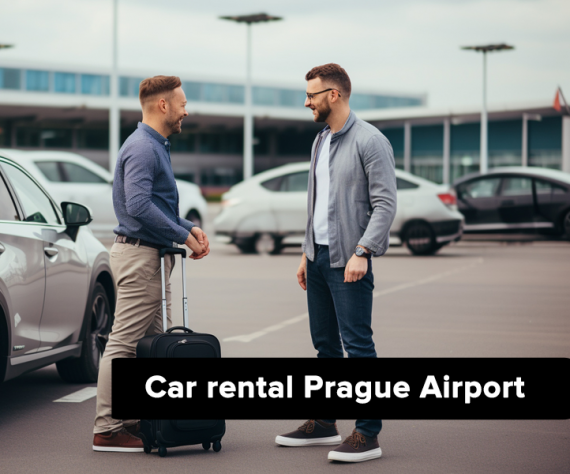 Why car rental Taggart:
13 years of experience
in renting cars
SUBSTITUTE CAR FOR FREE
in case of technical problem or car accident*
Experience in solving car crashes or technical problems
all around EU
Delivery right at your doors
in Prague for FREE
Guarantee of ACT
mobility
16 743 075
reliable km by our cars in 2022
11 months
average age of cars

Choose a car
from our fleet

ORDER A CAR
by phone, email or booking form

TAKE YOUR CAR
in any place and time you choose

ENJOY YOUR CAR
with no concerns and maximum comfort
Taggart Car Rental Services at the Airport
The primary goal of Taggart car rental at Prague airport is to provide top-notch and reliable services with no hidden charges, ensuring your dream vacation unfolds seamlessly. Our airport branch specializes in renting cars not only at the airport but also at surrounding hotels within the Prague metro area, all with utmost flexibility. Your comfort and satisfaction are our top priority.
We offer a broad spectrum of vehicle rental options for both short-term and monthly rentals. You can rent a car for a weekend getaway, a vacation, or even months. And importantly, with us, you don't have to worry about complicated additional fees for extra drivers, colleagues, trips abroad, or highway vignettes. Everything is already included in the rental price!!
For those not planning on long journeys, we have affordable rates with a 200 km/day limit or unlimited kilometers, perfect for short-term travels or extended trips abroad.
But that's not all! For long-term car rentals, we have a special offer with three "NOs" - NO obligations, NO initial fees, and NO down payments. You can modify or terminate the contract anytime.
Did you fly into Prague uncertain if your stay would be 2 weeks or a month? You will only pay for what would typically be 19 days of standard rent, yet you can retain the vehicle for up to 30 days without additional fees.
We'll deliver the vehicle directly to Prague airport even outside business hours. Was your flight delayed? No worries. If you know your flight number when booking, please share it with us. Our colleagues will monitor any early arrivals or delays.
Your comfort and satisfaction are paramount to us. With Taggart car rental Prague airport, you gain not only a quality car but also a hassle-free travel experience.
Our car rental at Prague Airport offers you a wide selection of top-tier vehicles from leading brands, including Škoda, Audi, VW, Hyundai, BMW, and many more. If you have a requirement for more passengers or cargo, we also offer rental of minibuses and multi-seater vehicles that can take you anywhere in Europe.
When renting a vehicle with us, you receive
a comprehensive service package that includes insurance, tire services, regular vehicle maintenance, and many other benefits
. Most importantly,
you won't have to worry about any hidden fees.

Your satisfaction and comfort are our priority.
Rental components from Taggart Car Rental Prague:
Renting brand-new vehicles in perfect technical condition
Full insurance and added assistance insurance within the permitted EU countries
Seasonal tires and tire service
Comprehensive vehicle service as needed
Free delivery within Prague's metro area. Option for delivery to other cities
Trips abroad WITHOUT surcharges
Unlimited number of additional drivers
Replacement vehicle in case of technical failure or insurance event where you're not at fault
Czech highway sticker
Free car rental at Václav Havel Airport during business hours
No upfront payment or pre-authorization/blocking on a payment card required
You can pay in cash, by credit card, or bank transfer
Reserve your vehicle at the car rental at Václav Havel Airport today and experience first-class services and a professional approach. We deliver both during and outside business hours! We're here to simplify your travel and make it as comfortable as possible.
Need a help or have some questions?
Feel free to contact us. We will be glad to help you.