Rent a Car for a Day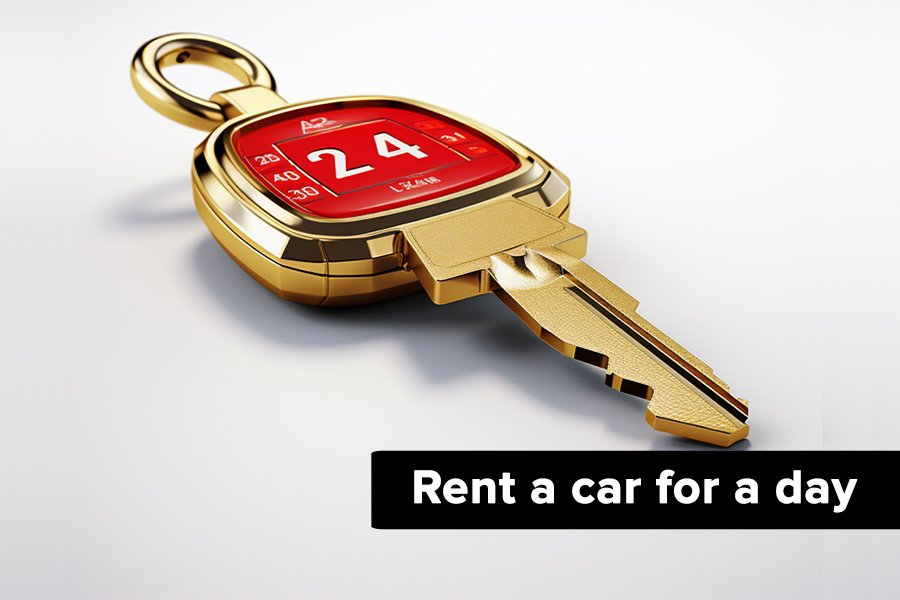 In today's fast-paced world, where every moment counts, we often encounter the need for flexible and comfortable transportation. Renting a car for a day has become a popular choice for those who want to efficiently combine comfort and independence. Whether you're planning a spontaneous adventure trip, need a reliable vehicle for an important business journey, or are looking for a quick and easy substitute for your own car that is temporarily unavailable, renting a car for a day is an ideal solution. This option not only offers freedom and flexibility in your plans but also frees you from the concerns associated with maintenance and long-term commitments of owning a vehicle. With a variety of options that today's car rental and carsharing companies offer, from compact city cars to luxury models, everyone can find the right vehicle that suits their needs and style. In this article, we will explore when and how it is beneficial to use the services of a car rental for a day or alternatively carsharing. We will examine when this mode of vehicle rental can be advantageous, as well as strategies and tips that can help us save on such a rental.
Options for Renting a Car for a Day
In the current rapid pace of life, we often find ourselves in situations where we need a car just for a short time. Whether it's unexpected work matters, spontaneous trips, or a temporary replacement for our own vehicle, renting a car for a day can be an ideal solution. The two main options available to us are traditional car rentals and carsharing services. Each of these options brings its unique advantages and may be more suitable for different types of users and situations. The following passages detail the key aspects of both services to help you decide on the best choice according to your current needs.
Rental from a Professional Car Rental Company
Renting a car for a day from a traditional car rental is an ideal choice for those looking for a specific type of vehicle for a particular occasion or need. Car rentals offer a wide range of vehicles - from economical models through mid-range to luxury and specialized vehicles, such as SUVs or convertibles. This flexibility is crucial for customers who need a vehicle for specific purposes, such as business meetings, family trips, or special events. In addition, car rentals usually offer comprehensive service, including the option of prior reservation, long-term rental, and customized insurance, which ensures peace of mind and certainty for customers.
Advantages of Renting from a Car Rental Company
Wide selection of cars: Car rental companies offer a wide range of vehicles, from small city cars to luxury and specialized vehicles, allowing customers to choose exactly the car they need for their specific purposes.

No advertising decals: Unlike some carsharing vehicles, cars from car rental companies are not covered in advertisements, which can be aesthetically more pleasing and discreet for some customers.

Flexibility in travel and parking: With a vehicle from a car rental company, you can travel not only within the city but also to surrounding areas without being limited to designated parking zones. This freedom is ideal for longer trips or situations where you need to park the vehicle outside designated areas.

Perfect condition and cleanliness of the vehicle: Car rental companies maintain their vehicles in perfect technical condition and ensure they are always thoroughly cleaned, providing customers with assurance and comfort.

Exclusive use during the rental period: With a car rental, the vehicle is exclusively yours during the rental period, so there is no situation where someone else would rent the car after you park it, as is the case with carsharing.
Disadvantages of Renting from a Car Rental Company
Payment for the whole day: Unlike carsharing, where you only pay for the time you use the vehicle, in a car rental, you pay for the entire day of rental, which may be less advantageous for those who need a car for only a few hours.

Limited pick-up options: Usually, you need to pick up and return the vehicle at the car rental branch, which can be impractical for some customers, especially if the branch is not in their immediate vicinity.
Carsharing
On the other hand, carsharing is a modern, flexible alternative to traditional car rental, ideal for short-term use and spontaneous needs. This service is usually based on an application that allows users to quickly find and reserve available vehicles in their vicinity. Carsharing is more cost-effective for short city rides because customers pay only for the time they actually use the car, which can include payment for kilometers driven. This option is also more ecological, as it supports vehicle sharing and reduces the need to own a car. Carsharing is ideal for those looking for a quick and easy solution for urban transport, or for those who want to reduce their environmental impact.
Advantages of Carsharing
Payment according to actual use: Carsharing services charge fees based on the duration of vehicle use and kilometers driven. This means instead of a flat daily rate, you only pay for the time and distance you actually use, which can be extremely efficient and economical, especially for short or medium-length rides.

Easy parking in designated zones: With carsharing, you don't have to struggle with finding a parking spot. After completing your ride, you simply park the car in one of the designated zones, saving you time and eliminating parking worries. This flexibility is particularly advantageous in densely populated urban areas.

Flexibility in vehicle pick-up: Thanks to the carsharing service app, you can easily find out where the nearest available vehicles are located. Reservation and pick-up of the vehicle are quick and intuitive, allowing you to choose a vehicle that best suits your current needs and location.

Ecological impact and sustainability: Carsharing significantly contributes to more sustainable urban mobility. By reducing the number of vehicles on the roads and promoting vehicle sharing, it reduces traffic congestion and greenhouse gas emissions. This service also supports greater use of public transport and cycling, as people often combine carsharing with other forms of transport for comprehensive travel solutions.
Disadvantages of Carsharing
Limited choice of vehicles: Carsharing services often offer a limited selection of car brands and models. This can be limiting for customers who are looking for a specific type of vehicle for certain purposes.

Higher cost for longer use: Carsharing can be financially disadvantageous for rentals like 24-hour use. Charges for hours when the car is not in use, along with prices for kilometers driven, are significantly higher than at traditional car rental companies.

Vehicle condition dependent on previous user: The quality and cleanliness of a carsharing vehicle can be variable and dependent on how the previous user treated it. You may often encounter vehicles that are damaged or dirty.

Advertising decals on cars: Vehicles in carsharing services are often covered in advertisements, which may be aesthetically less acceptable for some users.

New rental for each pick-up: Every new pick-up of a parked car within carsharing is considered a new rental, which involves repeating some administrative tasks.

Uncertainty about vehicle availability: If you temporarily return the car, you may not find it in the same place where you left it, and it may be picked up by another user.

Location limitations and travel options: Carsharing may have limitations in the areas where vehicles can be used or parked, which can be impractical for longer journeys outside designated zones.

Mandatory registration and other conditions: To use carsharing services, registration and meeting certain conditions are necessary, which can be tedious or restrictive for some users.
When It Makes Sense to Rent for a Day from a Car Rental or Carsharing
When deciding between renting a car for a day from a traditional car rental or using carsharing, it is important to consider your specific needs and circumstances.
Renting from a car rental makes sense when:
You need a specific type of vehicle: If you require a certain model or class of car, for instance, for a special occasion, business trip, or need a larger vehicle for a family outing, car rentals offer a wider selection.

You're planning longer trips outside the city: Car rentals are ideal for longer trips where flexibility in return location and unlimited kilometers can be advantageous.

You value comfort and quality of service: With car rentals, you usually get a higher standard of service, including the option of prior reservation and customer support.
Carsharing is more suitable when:
You need a car for short distances or durations: For quick trips around the city or when you only need a car for a few hours, carsharing offers greater flexibility and better pricing conditions.

You're looking for a convenient solution without parking worries: In many urban areas, you can park a carsharing vehicle in designated zones, which makes parking easier.
Why It's Advantageous to Rent a Car for a Day from Taggart Car Rental
Renting a car for a day from Taggart Car Rental brings a range of benefits that meet various needs and wishes of customers:
Flexible 24-hour rental: At Taggart, the rental period is counted as 24 hours from the time of rental. This means if you rent a car at 4 PM, you can return it without any issues until 4 PM the next day, providing great flexibility for your plans.

Diverse fleet of vehicles: Taggart offers a wide range of vehicles, from compact city cars to luxury and representative models, meeting the various needs and preferences of customers.

Quality and presentation of vehicles: Cars from Taggart Car Rental are always clean, undamaged, and maintained in perfect technical condition, ensuring comfort and a representative appearance for customers.

Flexibility in travel and freedom of movement: With vehicles from Taggart, you can travel within the city, across the Czech Republic, and even make trips abroad, providing you with maximum freedom in your travels.

Two tariff types: Taggart offers two tariffs - a cheaper one with a 200 km limit per day and a more expensive one without kilometer limits within the Czech Republic or with a 300 km limit for trips abroad, allowing you to choose the most suitable option for your journey.

Transparent prices and no hidden fees: At Taggart, prices are clear and known in advance, without hidden fees, allowing customers to easily plan their expenses.

Excellent customer service and fast handover: Taggart prides itself on a high level of customer service and efficiency in handing over vehicles, ensuring a smooth and trouble-free rental experience.

Real customer experiences and additional services: Customer feedback and the offer of additional services, such as vehicle delivery within the Prague metropolitan area and 24/7 assistance service, increase overall customer satisfaction and comfort.
Car Rental Taggart boasts several branches, making their services more accessible to customers. You can find them in the Prague city center, ideal for those wanting to explore the capital city, as well as at Václav Havel Airport, allowing for an easy transition from flight to convenient car rental. Additionally, Taggart has business representations in other major cities such as Brno and Plzeň, providing broad geographic coverage and convenience for customers throughout the Czech Republic.
How to Save When Renting a Car for a Day
If you want to save when renting a car for a day, Taggart Car Rental offers an advantageous option to achieve this. Traditional car rentals often charge higher prices for one-day rentals due to fixed costs associated with preparing and renting vehicles. However, you might consider renting for a longer period, such as for 3 days or an entire weekend, which can lead to significant savings.
Let's look at an example: If you rent a Hyundai i30 for one day with a 200 km limit, the price is 1825 CZK without VAT, which is 2208 CZK including VAT. However, if you rent the car for three days, the price is only 400 CZK higher, i.e., 2250 CZK without VAT, which makes 2723 CZK with VAT. With this rental, you get the car for three days, a total limit of 600 km, and complete freedom of movement. When you divide this amount over three days, it comes out to 908 CZK per day, which is significantly less than the standard rate of 2208 CZK per day. This strategy can bring you significant savings.
Conclusion
In this article, we have explored the various aspects and options of renting a car for a day, whether it be from a traditional car rental or through carsharing. While car rentals like Taggart offer a diversity of vehicles, flexibility in travel, and assurance of quality and comfort, carsharing brings benefits in the form of flexible rates, convenience, and ecological sustainability, especially for shorter city trips. The key to choosing the best solution is understanding your specific needs and circumstances.
When deciding which type of rental is most beneficial for you, it is important to consider the length and nature of your trip, your budget, and also your preferred type of vehicle. Remember, planning and comparing different options can help you save money while ensuring that your car rental experience is as comfortable and efficient as possible. Whether you decide on a car rental or carsharing, it is important that the option you choose meets your individual needs and brings you maximum satisfaction on your travels.
Are You Ready for the Journey?
Don't be limited and choose the perfect car for your next adventure with Taggart Car Rental. Call us at +420 775 592 097 or write to us at info@taggart.cz, and we will help you find the ideal vehicle for your plans. Don't forget to try our online calculator below, where you can easily find the complete offer of available vehicles and the rental price list. Just enter the required date and time, and we will take care of the rest. With Taggart Car Rental, your journeys are unlimited!
Updated:
16.11.2023 12:00