Car rental in Prague Main train station
Your spelialist for short-term and monthly car rentals in Prague Main train station
Do you want to rent a car in Prague Main train station?
Since its founding in 2010, Taggart Car Rental in Prague has proudly collaborated with more then 20 thousand of enthusiastic customers. As one of the leading car rental in Prague and throughout the Czech Republic, we offer an extensive fleet of over 500 rental cars, ready to meet your needs for daily, weekly, weekend, monthly, flexible, or even long term car rental.
Our hallmark is quality and trustworthiness. We offer a wide range of models from various brands, with an average age of no more than 11 months. Every vehicle in our rental fleet is regularly and meticulously serviced in professional auto shops, ensuring your safety and comfort.
At Taggart Car Rental, we stand on the foundations of reliability, integrity, transparency, and professional approach. Thanks to these principles, we have built a reputation as one of the best-rated car rental companies not only in Prague but throughout the country.
Our Prague headquarters can boast excellent reviews from our clients in 2020, 2021, and 2022 on the independent portal Firmy.cz/Mapy.cz, which is managed by Seznam company.
The Car Rental Taggart team dedicates itself to each client with maximum commitment, carefully seeking tailor-made solutions for every individual need. Visit us at our main branch, Car rental Taggart city center, just a few steps from the Main Railway Station. Let us convince you that exceptional service and a choice of cars is our standard!
You can also rent a car at Prague Airport or have a car delivered throughout Prague. Our car rental has branches or business representation in other cities such as Brno, Plzeň, Kladno, or Mladá Boleslav.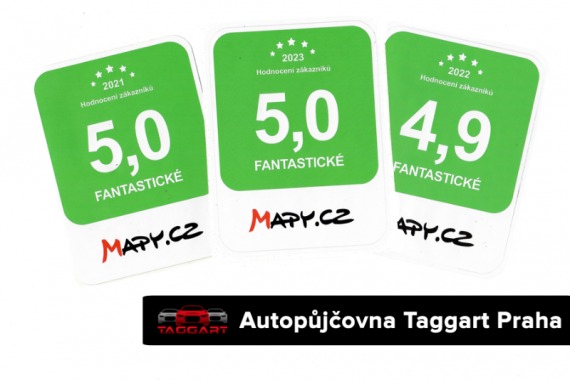 Why car rental Taggart:
13 years of experience
in renting cars
SUBSTITUTE CAR FOR FREE
in case of technical problem or car accident*
Experience in solving car crashes or technical problems
all around EU
Delivery right at your doors
in Prague for FREE
Guarantee of ACT
mobility
16 743 075
reliable km by our cars in 2022
11 months
average age of cars

Choose a car
from our fleet

ORDER A CAR
by phone, email or booking form

TAKE YOUR CAR
in any place and time you choose

ENJOY YOUR CAR
with no concerns and maximum comfort
Car rental Taggart
Are you looking for an efficient solution for your transportation needs with the option of delivery to the Main Railway Station in Prague? Whether you're planning a weekend getaway, a vacation, or need a car for a longer period, the Taggart Car Rental branch in Prague is here for you! As one of the largest car rental companies in the city, we specialize in various vehicle rental lengths - from one-day to monthly and long-term car rental. And what's more? We offer transparent rates with no hidden fees for additional drivers or colleagues, trips abroad, etc. Everything is included in the price.
For those seeking flexibility, we have cheap rates with a 200 km/day limit ideal for short trips, as well as unlimited mileage rates for longer journeys. And that's not all! Our flexible monthly and long term car rentals come with a triple "NO" benefit - NO commitments, NO startup fees, and NO down payments. We also offer the option to return or exchange the vehicle at any time during the contract without any hidden costs.
Having trouble with your own vehicle? We offer monthly rentals at a price equivalent to just 16 days of standard rental, with the possibility of using it for up to 30 days without additional charges.
Let us solve your transportation needs, whether you're looking for a vehicle for a short time or for a longer period. We offer free delivery of the vehicle right to your doorstep, or you can pick it up at one of our branches, whether you are in Prague 1 or near Smíchov Railway Station in Prague 5.
Discover the unique car offer from Taggart Car Rental Prague, where diversity, quality, and first-class customer-oriented service meet. Our car selection includes various brands such as Škoda, Audi, VW, Hyundai, BMW, and many more to satisfy your needs for any purpose. For those traveling in larger groups, we have an extensive selection of microbuses, minibuses, and multi-seater vehicles ready to take you anywhere in Europe with endless comfort.
Choose Car Rental Taggart and enjoy an exclusive experience with our all-inclusive service package that eliminates all unexpected fees. Your satisfaction is our priority, so our services include:
A diverse selection of vehicles maintained in flawless technical condition.
Comprehensive insurance and assistance services throughout the EU.
Seasonal tires and professional tire service.
Continuous top-level vehicle maintenance.
Free vehicle delivery in Prague, with the option of delivery to other cities.
Free trips abroad, without additional fees.
The possibility of adding an unlimited number of additional drivers.
Provision of a replacement vehicle in the event of a technical breakdown or insurance event, if you are not at fault within the Czech Republic.
Included Czech motorway sticker.
The possibility of renting a car at our car rental at Václav Havel Airport for free during working hours.
Transparent payments without the requirement for prepayments or deposits.
Flexibility in payment methods - cash, credit card, or bank transfer.
Don't wait and book your car today. Immerse yourself in the world of exceptional services, first-class care, and a professional approach at Taggart Car Rental Prague. Your comfort and satisfaction are our goals - treat yourself to worry-free and luxurious travel.
Need a help or have some questions?
Feel free to contact us. We will be glad to help you.