Car Rental Taggart Prague: Three Years at the Top with a Fantastic Rating!
When Car Rental Taggart was established in Prague thirteen years ago, it had a clear vision: to provide customers with unparalleled services. Each year, we have refined this vision and elevated our services to a higher level. Today, for the third consecutive year, thanks to your support and satisfaction, we are proud to have maintained a fantastic 5-star rating from our customers who shared their experiences and reviews on the firmy.cz platform, operated by the Seznam company.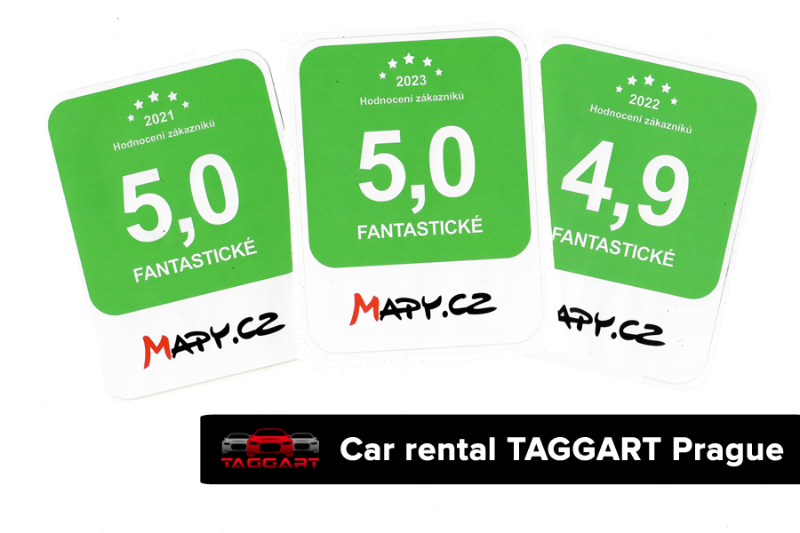 Passion for Service
The key to our success is an unending desire to provide services that exceed our clients' expectations. From the first contact to the return of the vehicle, we strive to ensure every customer leaves satisfied.
Trust is Fundamental
This rating is more than just a number for us. It reflects the trust you have placed in us. We believe that when you strive to be the best at what you do, people will recognize it. And your reviews and recommendations speak for themselves.
Constantly Improving
Despite our current successes, we never stand still. We are always looking for ways to enhance our services, expand our fleet, and offer even more value to you.
The Thanks Goes to You
In conclusion, we would like to say something simple yet sincere: Thank you. Thank you for your reviews, for your trust, and for choosing to ride with us. We look forward to many more five-star journeys together!
---
Come and see for yourself why Car Rental Taggart Prague is your best choice on the road. Whether you need a car for a weekend getaway or a long-term rental, we are here for you.
Updated:
22.08.2023 17:25